Date:
Friday, July 27, 2018

to

Tuesday, September 11, 2018
Primary Image: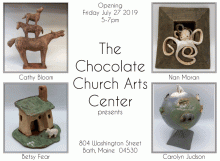 Details:
Take a sculptural journey through Space, Time and Place at the Chocolate Church in Bath beginning on July 27.  Fanciful clay sculptures by Points of View artist Carolyn Judson and her students Cathy Bloom, Betsy Fear, and Nan Moran depict endangered animals, dinosaurs of ancient times, planets, galaxies, and more familiar objects closer to home.
Betsy Fear's wall sculpture focuses on Place with a miniature adobe ruin from the West.  Whimsy is the impression created by Cathy Bloom's sacked animals and Nan Moran's boxed creatures.  Carolyn Judson combines the large and the small in her sculpture of Earth entitled "Endangered" which is covered with small clay animals including polar bears, elephants and tigers.
Join all four artists at the opening reception on Friday, July 27 from 5 to 7 pm.  The show will continue at the Chocolate Church through September 11.
Location
The Chocolate Church Arts Center:  804 Washington Street, Bath ME
Gallery Hours:  Tue-Wed (10-4);  Thu (10-6);  Fri (noon - 4)
Show dates:  July 27 - September 11
Reception:  Friday, July 27 from 5-7 pm
Location address:
804 Washington Street, Bath ME
Secondary image: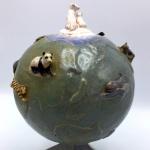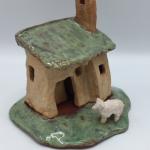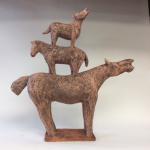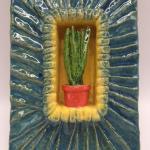 Reception:
Friday, July 27, 2018 - 17:00