Date:
Friday, June 24, 2016

to

Wednesday, July 6, 2016
Primary Image: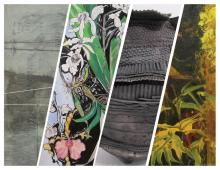 Details:
Barbara Bean, Ed McCartan, Jackie Melissas, and Ann Slocum have joined forces for a show at River Arts' West Gallery in Damariscotta. Maine.  Each Points of View artist brings a special approach to their work.  Ann Slocum uses collaged paper, acrylic, and mark-making to create dynamic abstract works on panel.  Ed McCartan's acrylics are also abstract, showing interesting use of color and natural motifs.  Jackie Melissas is a well-known ceramicist and brings a three-dimensional aspect to the show.  Barbara Bean's favorite medium is ink, often blended with watercolor or other color media, which allows her to show fine detail while creating vibrant art.
A "collaged" sample of their work appears in the image below.  From left to right: segments of work from Ann Slocum, Barbara Bean, Jackie Melissas, and Ed McCartan.
Join the artists for a reception on June 24 from 5-7 pm.  The show will remain on exhibit from June 24 through July 6.
Location:  River Arts, 241 US Route 1, Damariscotta, ME
Location address:
241 US Route 1, Damariscotta, ME
Secondary image: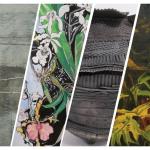 Reception:
Friday, June 24, 2016 - 17:00